Eila Roberts Joins Integrative Biology
Release Date: Apr 5, 2018
We are excited to announce that Eila (pronounced "A"-la) Roberts, Ph.D. joined the Department as a Specialist-Advisor on May 15, 2017. Not only does Eila bring a strong academic advising background to the Spartan community, but she has also has excelled as a researcher and educator.
While completing her Bachelor of Science in Biopsychology (2004) and her Masters of Science in Conservation Biology (2007) at the University of Michigan, Eila researched the effects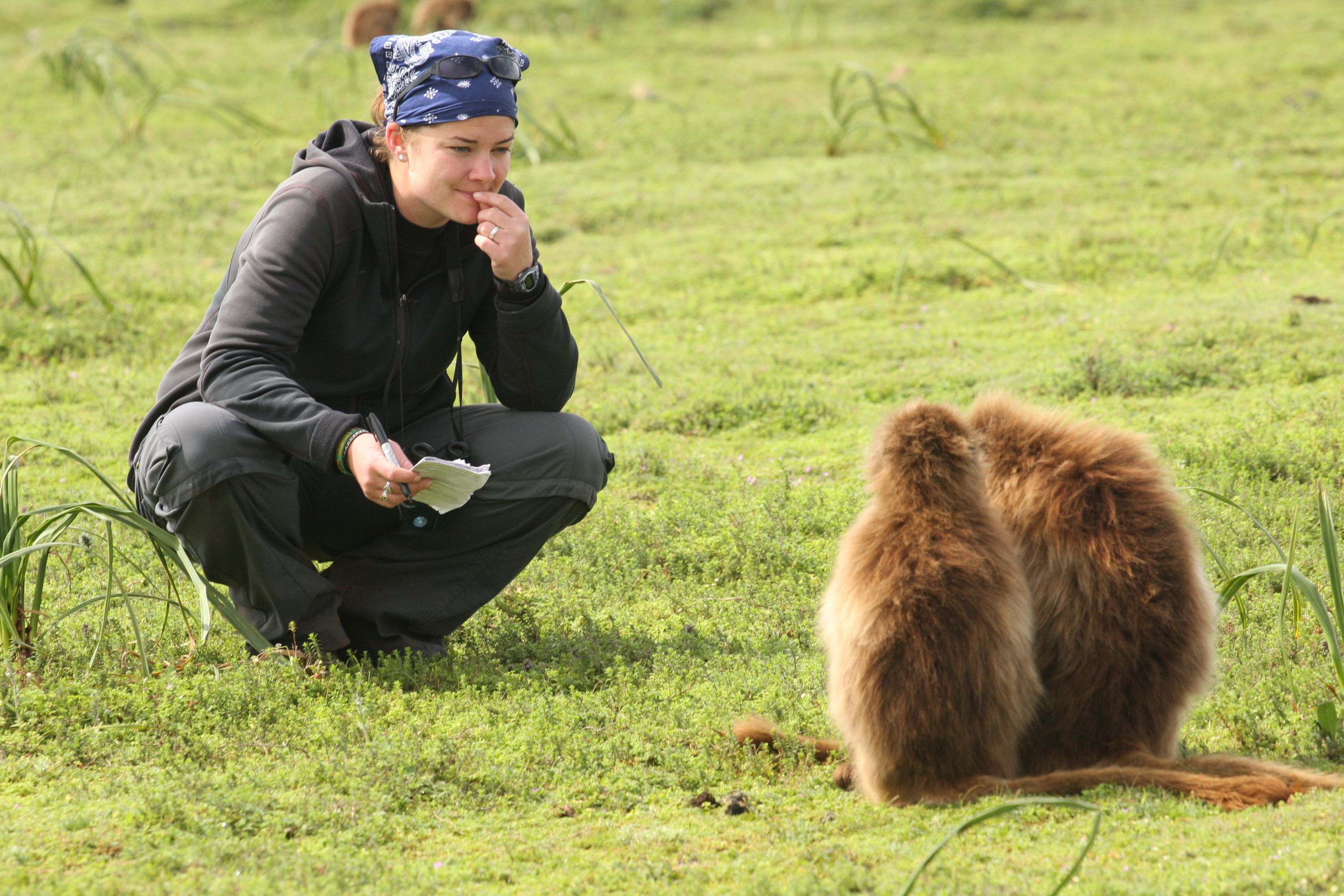 of prenatal hormone exposure on reproductive behavior and the development of social behavior in sheep. She got her first taste of field research working on a cliff swallow project in Nebraska after finishing her Bachelor's Degree. Consequently, she sought a field position for her doctoral work. Fortunately, Eila's dream project became available, again at the University of Michigan, in their gelada lab. She spent almost two years in the Simien Mountains of Ethiopia studying gelada monkeys. After Eila wrapped up her doctorate, she joined Arizona State's Comparative Analysis of Baboon Sociality. In this position, Eila spent over two years in Ethiopia and Kenya following hamadryas and olive baboons, respectively.
Advising has always been an interest of Eila's. Not only did Eila advise students throughout her research career, but she was also a Peer Advisor at University of Michigan's Undergraduate Research Opportunity Program and a Psychology Department Concentration Advisor. Advising students comes naturally to Eila. According to Eila, "Even as a research associate studying baboons in Kenya, I would persuade each research assistant to sit down for a 'What's Next' session to discuss their lives after the project." We hope that Eila will be an inspiration to our students.
Eila has been anxious to begin her adventure at MSU. "I am so excited to join such an interdisciplinary science department full of such wonderful people," Eila confessed. "I hope to bring a new and complementary perspective to the advising team and the department, I can't wait to get started!"
In addition to her advising responsibilities, Eila will work with faculty, staff, and off-campus sources to develop internship and research opportunities for Integrative Biology and Zoology majors, and we expect she will make some valuable contributions to our teaching mission.
Share this story