From Veterinary Medicine to Zoo Education: How MSU Experiences shifted Mariah Faszczewski's Career Goals
Release Date: Jul 31, 2017
Categories: Undergrad News, Zoo Science
By Kat Shupe and Mariah Faszczwski
Mariah Faszczewski is a transfer stude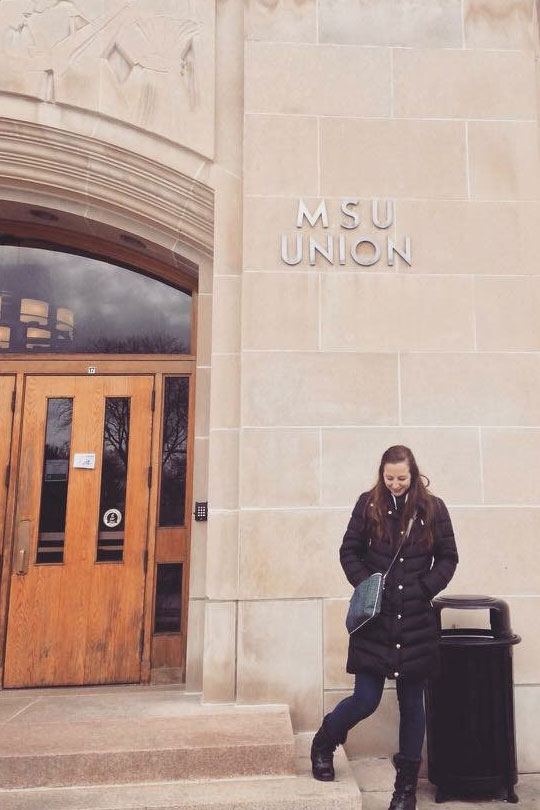 nt whose success in the Zoology program helped guide her to her ultimate goal: educating the public on animals and conservation issues. During her three years at MSU, Mariah was elected as co-President of the Zoological Students Association (ZSA), was an Undergraduate Learning Assistant for Dr. Richard Snider's zoo and aquarium science courses, worked at the herbarium, and participated in volunteer opportunities. Mariah is currently an education intern at Potter Park Zoo and graduating at the end of summer 2017. We chatted with her to learn more about her transition to MSU, her experiences here, and how they impacted her future career goals.
Q: Over the course of your two years at MSU you have made quite an impact through your role as co-president of the Zoological Students Association and as an Undergraduate Learning Assistant. How would you say the transition was entering MSU as a transfer student?
A: I actually only spent three years at Michigan State University after studying at Macomb Community College for two years. Everyone experiences a different transition when moving to a large university like MSU. Fortunately, mine was great and I never really felt overwhelmed. I went to events like Sparticipation and the College of Natural Science Colloquium which helped me figure out what I could get involved in at MSU besides studying. The College of Natural Science Colloquium is where I found out about the Zoological Students Association (ZSA) and first heard Dr. Richard Snider speak about zoology. Now, surprisingly, I became the co-president of ZSA and Dr. Snider's undergraduate learning assistant my third and final year here. I really feel I transitioned well because I put myself out there and found out about the different things I could do. It led me to meet great people in my major and excited to be on campus every day.
Q: The Zoological Students Association is an important organization on campus for zoology students. Your role as an executive board member required you to engage members in the practical elements of this field. What would you say was your greatest triumph in that area as co-president of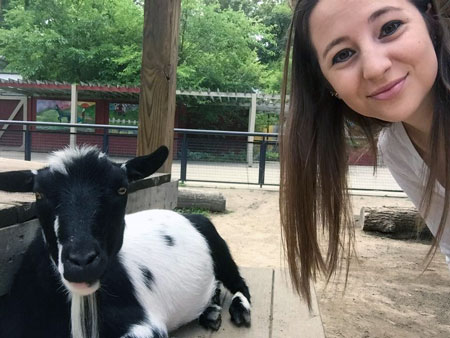 this organization?
A: I was part of the Zoological Students Association for three years, and on the executive board for two. This has been the best year thus far. I believe it is because we worked so well together as an executive board committee and really wanted to do everything we could for our members. We were able to bring in speakers almost every week of the spring semester, which is so important for our members. Speakers may consist of professors, graduate students, and outside presenters. Some members will now take a class they never knew of or join a research lab they didn't know they could join. Our members may even feel more comfortable around professors and graduate students that they heard from. This gives them the best idea of what their future may look like or a better insight on what they can do as a zoology major.
Q: How did being an undergraduate learning assistant contribute to your time here at MSU as well as your career plans and goals? Did you have an initial interest in educating others and engaging with your peers or was that a skill that you found and refined through being an Undergraduate Learning Assistant?
A: Being an Undergraduate Learning Assistant was one of the best decisions I have made at MSU. Not only was I more involved, but it also gave me an opportunity to learn even more. I did not have an initial interest in educating others because I thought all I could do is become a zookeeper and work in animal care. Honestly, I have heard many zoology students say this (and there is a lot of other options out there)! But I did love engaging with my peers, especially after being on the Zoological Students Association executive board the previous year. My time as an Undergraduate Learning Assistant was such a great learning experience.
Q: During your time at MSU, what other organizations or workplaces were you a part of in the East Lansing community?
A: In 2015, I began working at the MSU Herbarium where I still currently work. I have been so fortunate to work there.
This past year I was also an Undergraduate Learning Assistant for the Animal Nutrition course (ANS 313) that Zoology majors have the choice of taking. I took it my second year here and loved working on the chicken project they do every year. So I got to spend a couple months assisting with the project for that year's lab.
Although it is not in East Lansing, I had time to volunteer as well at the Capital Area Humane Society in Lansing. I think everyone at some point should take the time to volunteer!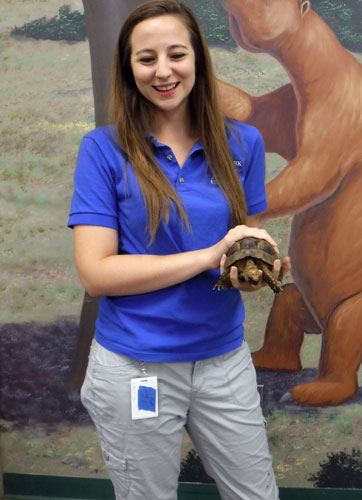 Q: You are currently an education intern at the Potter Park Zoo for the summer, what is your specific role there and what does your day-to-day look like?
A: Fun fact: There is no specific role or a way to describe my day to day life as an intern because it is always changing! That is the great part of working in education, especially zoological education. An educator's overall role is to help teach the public about animals and conservation.
I help with projects around the zoo like interpretive graphics and give encounters that involve our ambassador animals. All of us interns this summer took the docent class before our internship began so that we could give encounters. I also write blogs and help plan educational events. When I help with events it usually involves coming up with new ideas on how to get a message across in both a fun and educational way. The best part is that the Education Curator lets us interns be involved in everything and is always providing us with new opportunities.
Q: How has your time at Potter Park influenced your current career plans and future career goals?
A: Being an intern at Potter Park Zoo has just confirmed that I am on the right path. I enjoy doing projects that involve a conservation message and ones that include both adults and children. I can see myself being an Education Curator at an accredited zoo one day.
Q: Through your experiences at MSU or Potter Park Zoo have you seen a shift in those goals or in the passions that drive you in this field?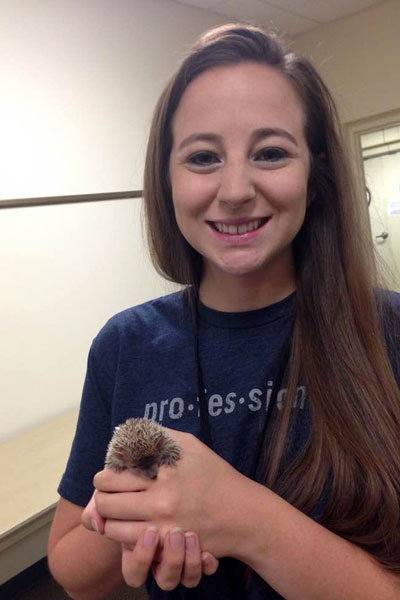 A: Absolutely. I came in thinking I wanted to be a veterinarian and then a zookeeper and now finally an educator. The only downfall I found with community college is that when you want your major to be something like zoology, not many people are there to guide you. Once I came to MSU I was finally able to talk to advisors that would listen to me and help guide me down the right path.
It took me until my last year at MSU to realize I wanted to work in education, especially education in zoos. I'll never forget the moment I realized it while talking with Dr. Richard Snider. It all just clicked and all it took was someone to actually listen to me and give me a few words of advice. Interning at Potter Park Zoo has only confirmed that what I have chosen as my career is exactly what I want to do. Which it always should be!
Q: What advice do you have for students who are just beginning their first zoology classes at MSU, or those who are approaching graduation this fall? What were the fundamental experiences at state that contributed to your success here?
A: Do not wait until your last year to get involved! I always say, freshman year is an exception and if you are worried about your studies than yes, focus on only them your first year. But after your freshman year, please join a club or find a class you really enjoy and become an Undergraduate Learning Assistant! You will expand your learning and get more out of your college experience because of it!
Getting to know your professors is also helpful. So even if you are nervous your first semester here, try and get to know them by the second semester. It all takes time but you will be so happy you did it. They can help in so many ways.
Also, the Department of Integrative Biology has the best advisors. Take advantage and go to them every year. If you are graduating this fall, good luck on all your future endeavors. Your last semester will fly by and then the real world will be waiting for you. So take advantage of all the opportunities MSU gives you!
Share this story