Jim Atkinson: Professor and Artist
Dr. Jim Atkinson has a long history working with invertebrates: as a researcher, teacher, and artist. The convergence of Jim's research, teaching, and art first blossomed during his tenure at Michigan State University. With his doctorate in hand, Jim came to MSU in 1968 for a faculty position in the Department of Natural Science. He transferred to the Zoology Department (now Integrative Biology) in the late 1980's.
According to Jim, "My original research area was the study of development in a marine gastropod, but I switched to terrestrial gastropods soon after arriving at MSU. My research included aspects of the reproductive biology of these animals and evolved to concentrate on various aspects of behavior of both herbivorous and carnivorous land snails." He also published papers about the history and philosophy of science.
Jim's teaching load aligned well with his research interests. While at MSU, he taught courses about the history and philosophy of science, issues in science and religion, biological sciences, the foundations of evolutionary biology, and the biology of invertebrates.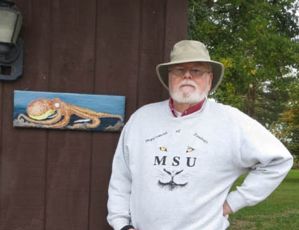 So how did he get started as an artist? Jim explained, "I began making videos of invertebrates as part of my research and to supplement the lecture and lab portions of the course, Biology of Invertebrates. The painting progressed from the videos as a way to express the amazing beauty of these creatures." Jim, now a Professor Emeritus, has continued painting the natural history of invertebrate animals since retiring from the MSU Department of Zoology in 2011.
Jim has been using his artistic talent to support invertebrate conservation efforts and raise public awareness. He firmly believes that "the degree to which the general public desires to conserve animals is, in part, determined by the aesthetic pleasure they receive when seeing them in their natural habitat. For invertebrates, and especially microscopic invertebrates, this experience is seldom offered to those who have not had the advantage of being biologists. I hope my paintings and videos provide some of that experience." Besides using his art to unearth organisms that are commonly overlooked, Jim donates a portion of the proceeds from his art to the Xerces Society for the Conversation of Invertebrates and to the Seven Ponds Nature Center in Dryden, Michigan.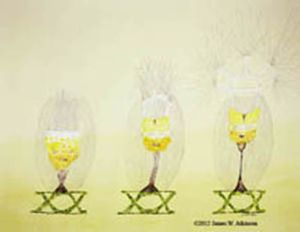 In 2015, Jim and his wife, Elizabeth, moved from Mason to the Port Huron area. Their relocation had a large, positive impact on Jim's creative endeavors. "One of the consequences of this move was that I was able to have a building converted to a studio in which I can maintain my aquaria, record my videos using my microscopes, compose and execute my paintings, and display the results all in one big space." Jim hosted an open student in May 2016 as an introduction to the local art community and a way of showing his colleagues and friends how and why he was still 'at it.'
Jim passed away on October 9, 2018.
Share this story