Cindy Wagner: Inspiring Conservation One Child at a Time
Release Date: Jul 3, 2017
Staring into the large soft eyes of a 2,700 lb. black rhino and learning about the plight of this endangered species in the wild can change any person's perspective. For Cynthia Wagner, Director of Lansing's Potter Park Zoo, this experience, and understanding is a powerful driving force behind decisions she makes each and every day.
"These gentle giants ha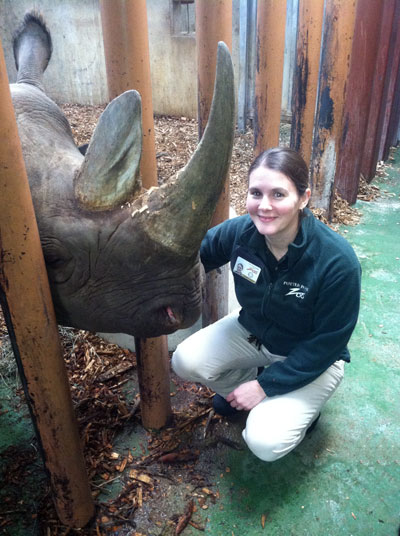 ve my heart," said Wagner. "I fear that without great strides being taken to protect them, they will be extinct in the wild in my lifetime."
These great strides include educating children about animals in the natural world and inspiring them to protect it for future generations.
"Potter Park Zoo – and all zoos – have a duty to instill the urgency and necessity for conservation in every visitor and even community members who may not have yet visited the zoo", she said.
This is why the Lansing zoo focuses heavily on education programs and opportunities for young people including the Big Zoo Lesson – a program that brings classrooms to the zoo to learn for a week during the school year, Zookambi – the zoo's summer camp, the zoo's teen keeper program, or simply a visit with family.
"We strive to make the animals and information about them available to all ages," she said. "As director of Potter Park Zoo, my mission is clear and straightforward – conserve and protect what we can and educate the next generation to do the same."
Wagner's path to zoo director wasn't so much planned as it was grabbing opportunity where it presented itself. Her original goal was to be a school teacher, but nature was always part of her world. As a quiet natured child growing up in rural northern Michigan, Wagner had many opportunities to observe animals.
"As a teen, my parents surprised me with a camp at Sea World of Ohio," she said. "This was the first time I saw the skill and science required to care for exotic animals. It was also where I learned that caring for animals was much more than simply feeding, cleaning and spending time with them."
This experience and many others including several years in 4-H led to Wagner's decision to pursue a degree in zoology with an emphasis in zoo and aquarium science at Michigan State University. An internship at Ft. Wayne Children's Zoo gave her the practical zoo keeper skills and knowledge necessary to enter into a zoological career.
Following her internship, Wagner returned to the Lansing area and worked at local pet store Preuss Pets.
"I worked in purchasing and inventory," she said. "Little did I know that the skills I obtained working with merchandise and vendors would be critical to my future work in a zoological institution."
In 2003 Wagner was hired as a zookeeper at Potter Park Zoo where she first worked as a bird and reptile keeper and later with hoof stock – including black rhinos.
Following her passion for conservation and the potential for Potter Park Zoo's educational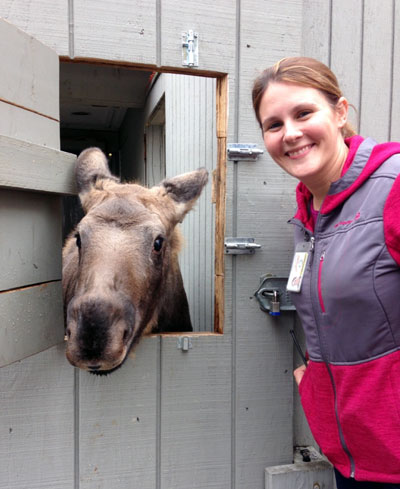 role in the community, when a general curator position was created in 2013 Wagner applied and was offered the position. In 2016 she was named zoo director – one of the youngest zoo director's in the country. She credits much of her success to her ability to communicate with many different types of personalities and willingness to hear others perspectives and ideas. "Observation skills I developed as a zookeeper were instrumental in shaping my ability to communicate effectively with people" she said. "I realized I enjoyed looking at situations from multiple perspectives and working to come to the best solution and that I did not need to work directly with the animals to make a positive impact on their welfare or conservation efforts."
"I hope my story inspires other students to think beyond what may seem attainable at the time," said Wagner. "Be willing to ask questions and learn from everyone around you. You never know which skills could help you achieve your goals in the future so be adaptable and ready to take advantage of opportunities that unexpectedly arise."