Diving into a Summer at the Florida Aquarium
Release Date: Oct 9, 2018
My summer at the Florida Aquarium was an experience that I will never be able to forget. As one of the first interns for the Marine Operations department at the aquarium, I was excited to see what they had planned for me throughout the summer and to really get my feet wet.
The Marine Operations department, as we always said on our behind the scenes tour,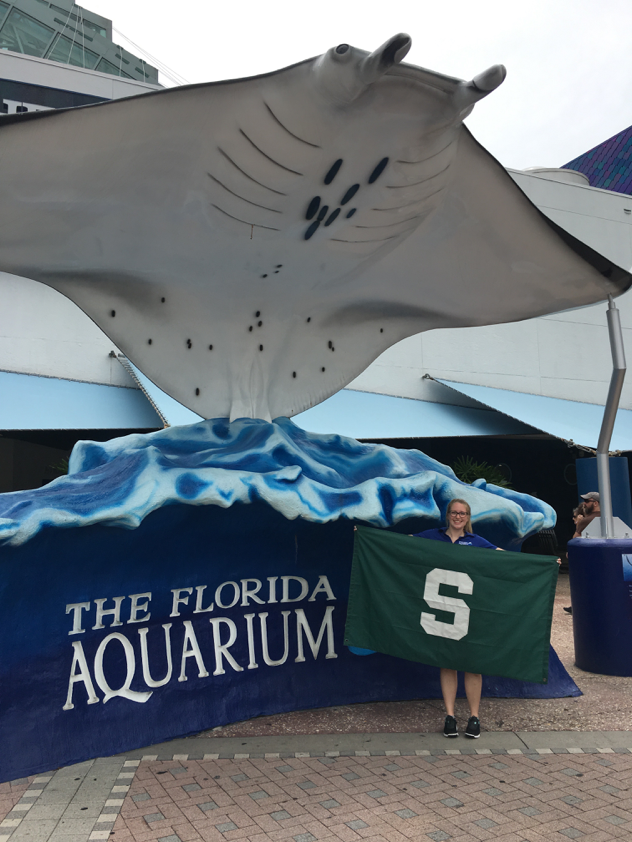 is responsible for everything "in and on" the water at the aquarium. The Bay Spirit II, the 72-foot catamaran docked at the aquarium, runs daily for Wild Dolphin Cruises out into beautiful Tampa Bay. The best interactions I had throughout the summer were always with the kids that would come through, either for school groups or with their families who were excited to see their first dolphin. While we weren't always able to find one for them to see, getting to talk to them about their favorite animals and what they wanted to be when they grew up always brought a smile to my face.
For the in the water portion of our slogan, the department is responsible for most of the diving that occurs within the aquarium. Diving within the aquarium was either to do maintenance on the exhibits, to be a part of the dive shows, or for guest dive experience programs. Maintenance dives were done almost daily to clean the exhibits throughout the aquarium. We were trained on varying forms of scuba equipment, my favorite of which was the full-face mask surface supply. I loved using the full-face mask equipment in some of our exhibits in the Wetlands Dome since we could be seen fully by guests and interact with them. Most guests have never seen that form of equipment used and were always curious as to the purpose behind it.
I spent a large portion of my time greeting our guest dive experience programs this summer, which was my favorite due to getting to interact with those guests and their families coming through to do the experiences. I always loved getting to know them, hear why they wanted to come to the program, and get to see their excited faces once out of the water after swimming with our Sand Tiger Sharks. I was even able to help with some media Shark Swims that we had over the summer, including one in which a local news station was covering a little girl who wanted to become a marine biologist who had just turned old enough to participate in the program.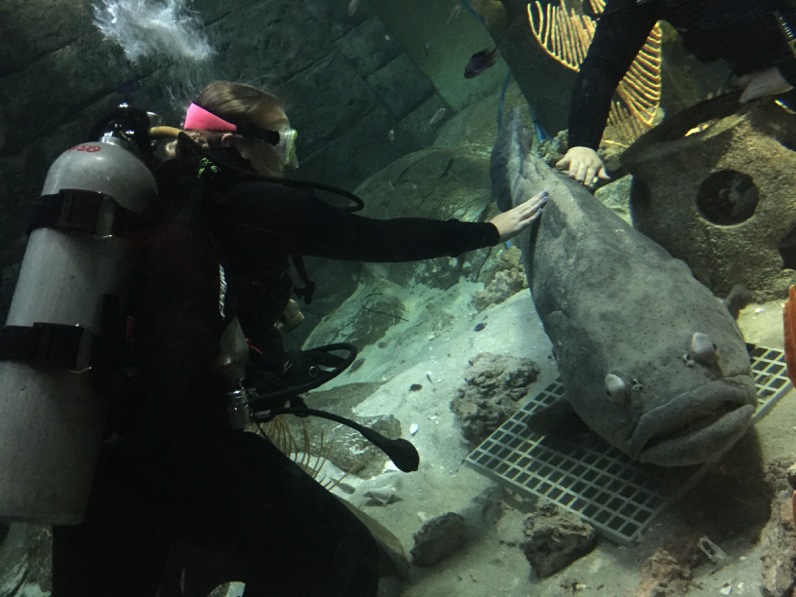 Getting to interact with guests underwater was also always a highlight to my day. Many people coming through the aquarium had never seen a scuba diver before and loved getting pictures with us wherever we were. We got to help with birthday celebrations and I was even able to help with a proposal this summer! My internship coordinator even set up a dive for me to be able to do an enrichment dive with our Goliath Grouper Cleatus.
In the long run, this internship opened my eyes to the many different career paths that are offered in the field of Zoology. I came into the internship certain that my path would be along the lines of working more within an education department working with guests. But after this internship, I got to see that there are many ways in which I can still achieve this goal that isn't specifically through an education department. My department allowed me to work with the public to give them once in a lifetime experiences, which also helped to create a new-found love for the animals they were swimming with. I was able to get training and experience in many forms of scuba diving throughout my summer. This internship reinvigorated my passion for diving and I'm now working towards receiving my Divemaster in the upcoming year. I made amazing connections both in and outside of my department and truly fell in love with the Florida Aquarium. This internship allowed me to find a new path in my career, and I can't wait to begin helping people have once in a lifetime experiences again in the future.