Heather Seaman: An Invaluable Internship
Release Date: Oct 31, 2017
As I am complete my last semester of undergraduate, freshmen me would not have expected to develop a strong passion for research. I did not come int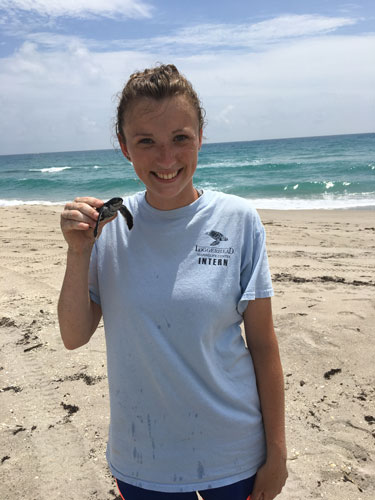 o college as a zoology major, but an anthropology major. After my first semester of college, I realized that zoology was the right major for me and thought that I wanted to be a zoo veterinarian. My classes helped me discover my passion for research and shift away from being a vet. After completing my capstone internship, I knew research was what I wanted to do for my career.
This past summer I got the chance to be a sea turtle nesting season intern at Loggerhead Marinelife Center in Juno Beach, Florida. The internship was one of the best experience for me. At first, it seemed intimidating going to Florida for three months and not knowing anyone, but those feelings went away once I started working at my internship.
The beaches that Loggerhead patrols are one of the most densely populated nesting beaches in Florida. Loggerhead has Loggerhead, Green, and Leatherbacks that nest on their beaches. The 2017 season was a record-breaking year for the number of green turtle nests and the overall nest count.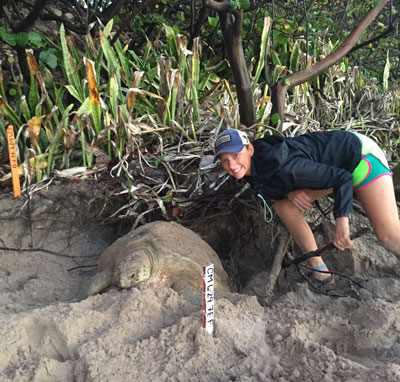 My internship was dominated by fieldwork. At the start of the internship, my daily tasks were to go out on the beach right before sunrise and survey the beach for sea turtle crawls with one of the technicians. By the end of the summer, I was able to identify the species and a nest from just looking at the turtle crawl. During the daily surveys, we would encounter and help stranded turtles that had gotten stuck while nesting or as they were going back to the water. Towards the middle of my internship, the nests started to hatch and I learned how to conducted nest excavations. I also learned how to conduct hatchling orientations and disorientations. I was lucky enough to go out with the night crew and see an adult leatherback nest. Many new experiences gained and skills learned by the end of the summer. I became friends with so many people that shared the same passion for sea turtles as me.
The internship was really rewarding. I believe the internship was very beneficial because I was able to do things that not everyone gets the chance to do. At the end of the summer, I could honestly say that I want to continue to do research, including further research on sea turtles. I would recommend people to not be afraid to do an internship that is far away from home, you may find something you are passionate about. Take chances and find something that interests you.