Outstanding Student to Outstanding Professional: Alumna Rachel Emory's Role in the Care of Elephants in Captivity
Release Date: May 25, 2017
By Kat Shupe & Rachel Emory
In 2014, Rachel Emory won the Outstanding Undergraduate Academic and Promise in Zoology award. She was recognized at Michigan State for her performance a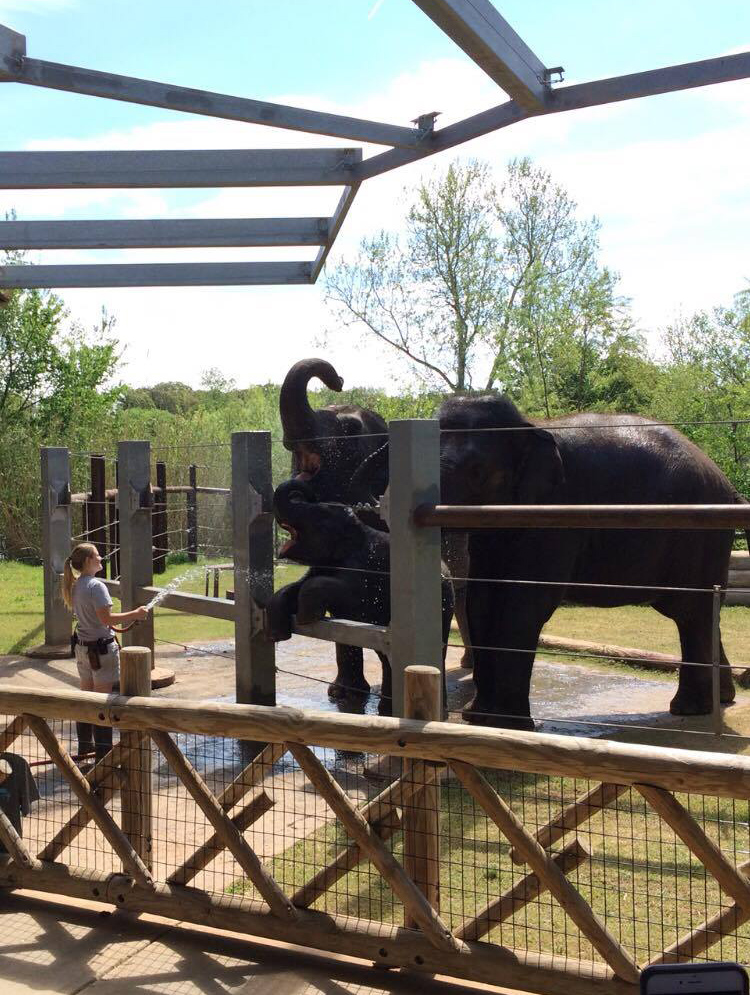 s an undergraduate inside and outside the classroom. She worked at the MSU museum in the care of vertebrate collections, participated in undergraduate research, had two internships in her field, and built a network of staff, advisors, and peers who supported her and learned from her during her time at state. Two weeks after graduation, Rachel moved to Oklahoma to take on her dream position as Elephant Keeper at the Oklahoma City Zoo. Since then she has traveled to India to work with rescued elephants and been promoted to Lead Elephant Caretaker. She is a member of a team that has built an incredibly successful platform of commitment to the health and care of elephants in captivity. I reached out to her to learn more about her role at the zoo and elephant care internationally, as well as her transition from being a student in the Zoology program at MSU to being a professional in the zoological field; here is what she had to say:
Q: What would you say was the most valuable class you took during your undergrad education?
A: The most valuable class I took during undergrad would have to be IBIO 365: Biology of Mammals. The lectures provided me with a solid foundation of knowledge that I find useful on a near daily basis working at the zoo.
Q: How was the transition from being a student to a full-time employee in the zoological working force?
A: My transition from student to full-time employee took a drastic leap when I moved from Michigan to Oklahoma two weeks after graduation. Never having been to Oklahoma other than for my interview, I was extremely nervous about moving across the country on my own. The entire process was eased immensely by my incredible team at the zoo. The elephant team made me feel so welcomed and at home that I settled in quickly and fell in love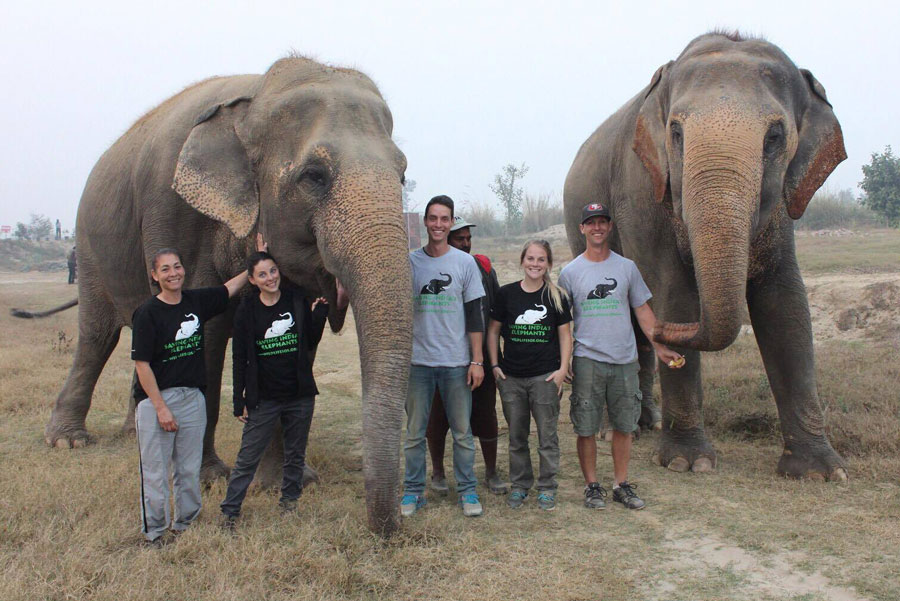 with my new life!
Q: You graduated in 2014. What has been the greatest accomplishment you have had since you graduated?
A: The greatest accomplishment I have had since I graduated was being promoted to Lead Elephant Caretaker at the Oklahoma City Zoo. I have worked extremely hard over the last three years to not only learn the foundations of elephant care but to continue to progress the elephant program and to improve my leadership skills. This hard work paid off when I was given the honor of leading the team, but this is an accomplishment that will never truly be completed. I use every day as a learning opportunity to better myself as a leader, and this is only the beginning of my journey.
Q: What does a typical day look like for you in Oklahoma?
A: My typical work day starts in the elephant barn by preparing breakfast for each of the six elephants we have at the zoo. Next, we bring each of the elep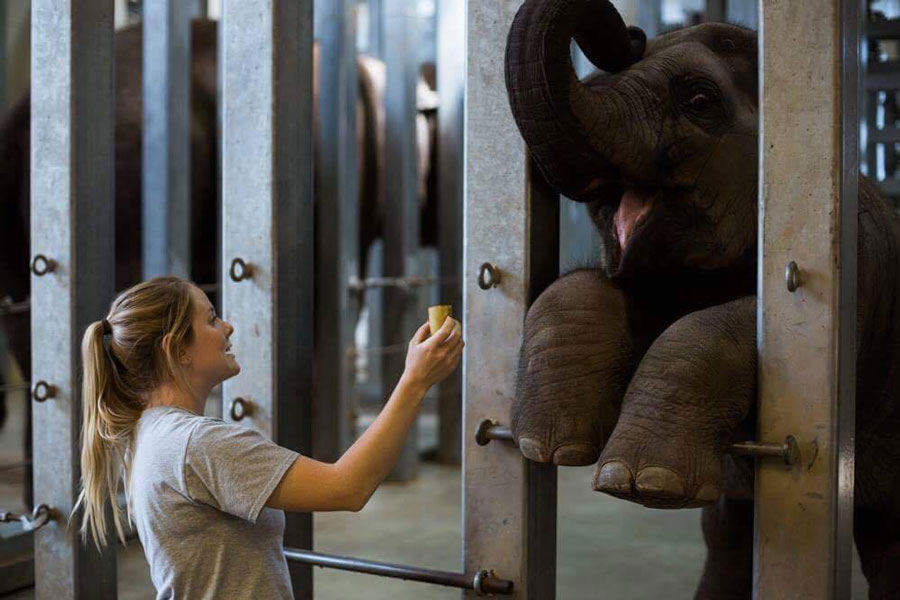 hants inside and do a complete visual inspection of their bodies during their morning bath routine. This is also a great time to do any necessary medical behaviors such as their weekly blood draws, trunk washes, blood pressure recording, foot care, etc. While this is occurring, other staff are outside cleaning the habitats from the night before and replenishing the food and enrichment for the day. Once the habitats are set, the elephants head back outside for the day while we clean the barn. We have our first elephant presentation in the late morning, where we bring one or more of the elephants into our training pavilion and have the opportunity to interact with guests to teach them about the care, natural history, and conservation of the elephants. In the afternoon, we have time to work on special projects such as building new enrichment items or cutting browse for the elephants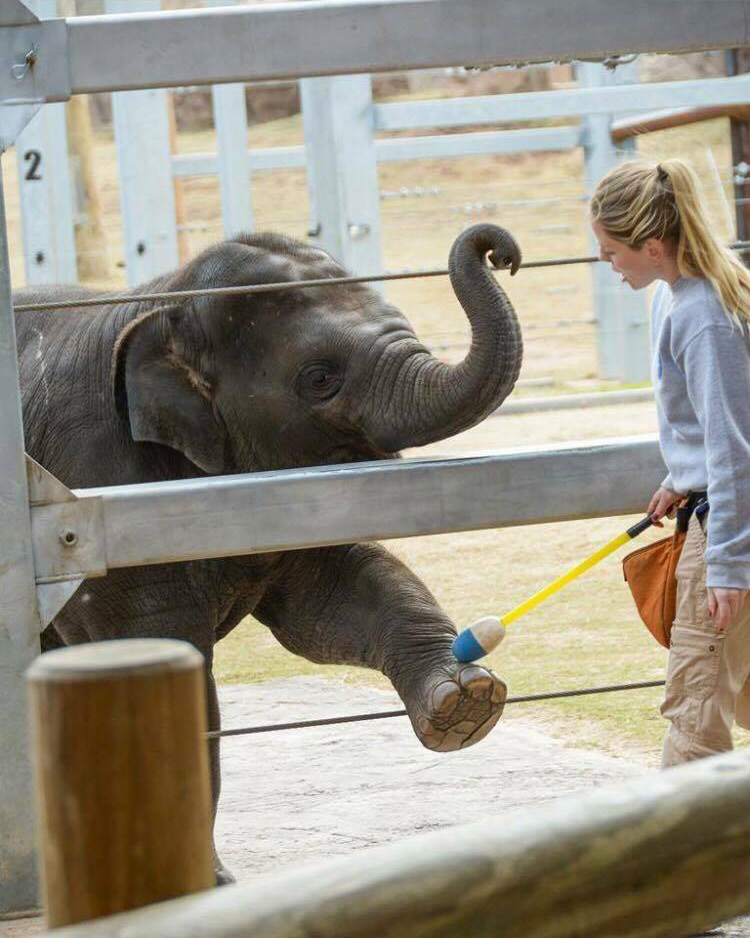 . We have a second elephant presentation where guests have the opportunity again to watch training and connect up clo se with the elephants. In the late afternoon, we bring each of the elephants inside for an afternoon training session while the habitats are replenished for the evening. And finally, the elephants return to their outdoor habitats for the rest of the evening.
Although this may seem like a very structured schedule, one of the things I love most about my job is that every single day is different. When you are caring for a herd of elephants ranging in age from 2 to 50 years including two bulls, not a single day repeats itself.
Q: Does the Oklahoma City Zoo participate in different conservation and research programs? If so, have you participated in any aspects of that?
A: The Oklahoma City Zoo participates in many different conservation and research programs both abroad and within the state of Oklahoma. The main funding of our conservation efforts comes from our Round Up for Conservation program in which guests round up to the nearest dollar and typically raise over $100,000 each year.
Several of the projects we support help Asian elephants in the wild. Recently, we have donated to support Elephant Protection Units in Myanmar to help pay for the salaries of the rangers, supplies, and education materials for the nearby villages. Another recent use of these funds involved purchasing 13,000 acres of protected habitat in Sumatra providing land for Asian elephants, as well as other endangered species such as tigers, orangutans, and Sumatran rhinos.
The zoo partners with the Oklahoma Department of Wildlife Conservation to conduct surveys across the state for different species such as prairie chickens, horny toads, and bats. I participated in the bat survey in 2015.
The Oklahoma City Zoo also participates in many research studies, several of which involve the elephants. The studies I have been a part of thus far include body condition studies, several studies on Elephant Endotheliotropic Herpes Virus, and a study on elephant's ability to determine quantity f from sight versus sound.
Q: You were recently on the cover of The Oklahoman in an article titled "New Hope for Elephants." Could you elaborate on the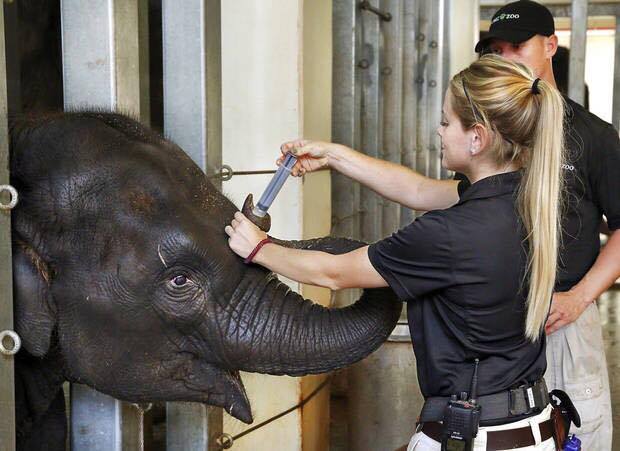 new testing methods your zoo is using and how that is going to be beneficial for elephants in captivity?
A: The Oklahoma City Zoo has recently invested approximately $50,000 in a Polymerase Chain Reaction (PCR) machine to allow our veterinary staff to monitor our weekly blood samples for the Elephant Endotheliotrophic Herpes Virus. Elephant Endotheliotrophic Herpes Virus is a particularly fatal virus that affects Asian elephant calves usually between the ages of 2-8 years old. Since we have a breeding program and young elephants, it is extremely important for us to monitor the elephants for the virus and be prepared to treat at a moments notice. For years we have done this by collecting blood samples from the elephants on a weekly basis and sending these samples to the National Zoo Laboratory in Washington, D.C. This process gives us approximately a 36-hour wait time until we get results. Now with the PCR machine on zoo grounds, we can get results within 3 hours and several times a day if needed. As only the second zoo in the U.S. to have a PCR machine, this is huge for elephants in human care. It will allow us to gain valuable information about the virus that could aid in the current research in several labs working to find a cure, as well as help us be better prepared with knowing how aggressively to treat.
Q: Tell me more about the elephant program at the Oklahoma City Zoo. What has been the best part of their program for you?
A: The elephant program at the Oklahoma City Zoo is extremely dynamic. We have six Asian elephants ranging in age from 2 to 50 years old including two bulls and two breeding age cows. We are blessed with a new habitat completed in 2010 that spans nine acres. One of the great things about our program is that each day is completely different. In the last three years, I have experienced an elephant birth, two elephant transfers, natural breeding, artificial inseminations, introductions of both males and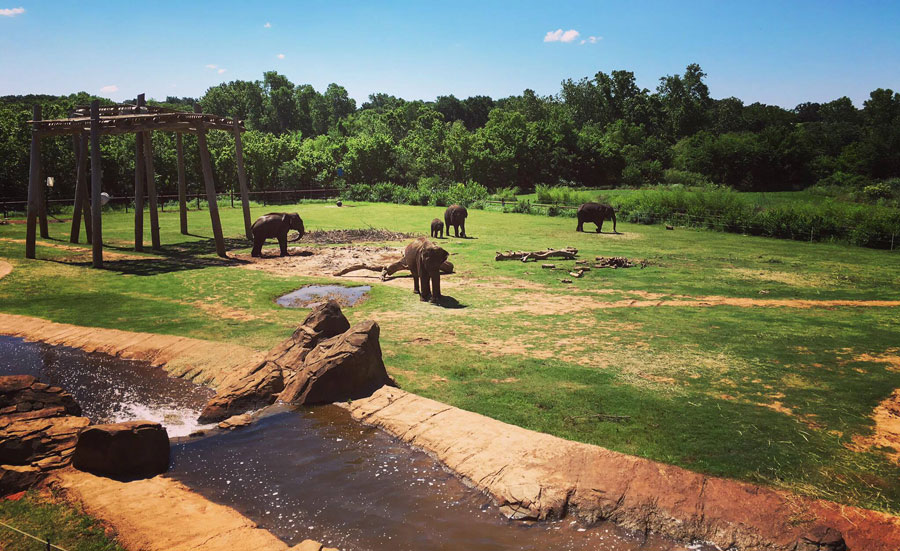 females, among many other exciting events. The elephants never fail to make each day exciting and keep us on our toes.
Although I'm in this career for the elephants, my favorite thing about the elephant program at the Oklahoma City Zoo is the people. I'm so proud to be a member of a team that continuously pushes each other to improve and grow each day, upholds the highest standard of elephant care, and loves each other like a family all at the same time.
Q: Oklahoma City Zoo hosted the Elephant Managers Association Conference this year. What kinds of programs and lectures happened during this conference, and how does that connect keepers and methodologies aroun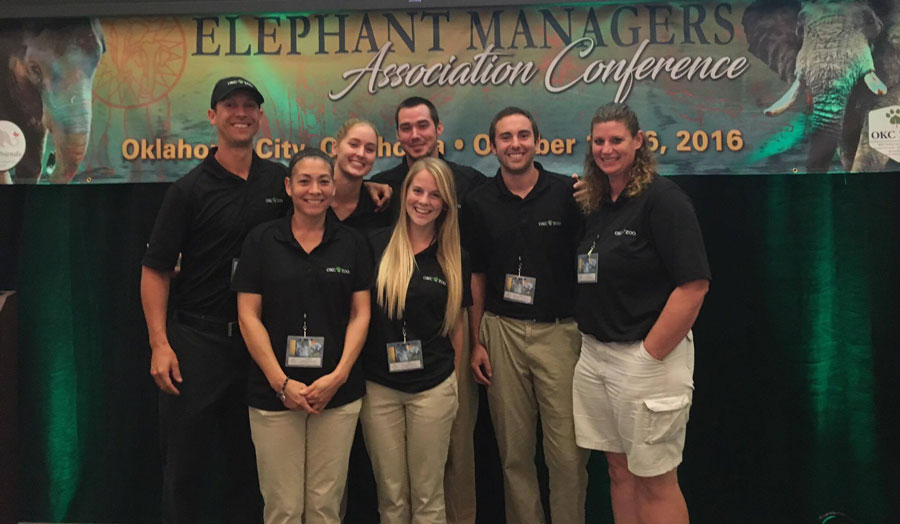 d the country for the best practices in caring for elephants in captivity?
A: The Elephant Managers Association Conference is an annual international conference that brings together elephant professionals from all over the world. We had the incredible opportunity of hosting the conference last year and sharing our elephant program with 150 attendees. The conference began with a pre-conference workshop where we gave a smaller group of individuals the opportunity to come to the barn and learn hands-on about training practices, foot care, Elephant Endotheliotrophic Herpes Virus treatment, semen collections, lifting down elephants, enrichment, and geriatric care. We then had two days of presentations covering topics on everything from conservation in situ, current research studies, and current practices in elephant husbandry. Some of the key presentations included topics on the use of stem cells in Elephant Endotheliotrophic Herpes Virus treatment, tusk capping, reproduction, elephant imports and introductions, pain management, and the use of science and education to impact conservation.
The Elephant Managers Association Conference is a huge resource for elephant caretakers to learn, share ideas, network, and progress in the field of elephant caretaking. We were honored to be selected as the host institution.
Q: You were recently in India working with elephants. What kind of work were you doing there?
A: Last November I traveled to India with two other members of our elephant team to the Wildlife SOS Elephant Conservation Center in Agra. We were asked to consult and assist with elephant foot care, positive reinforcement training techniques, enrichment opportunities, and an overall analysis of the facilities. We spent two weeks at t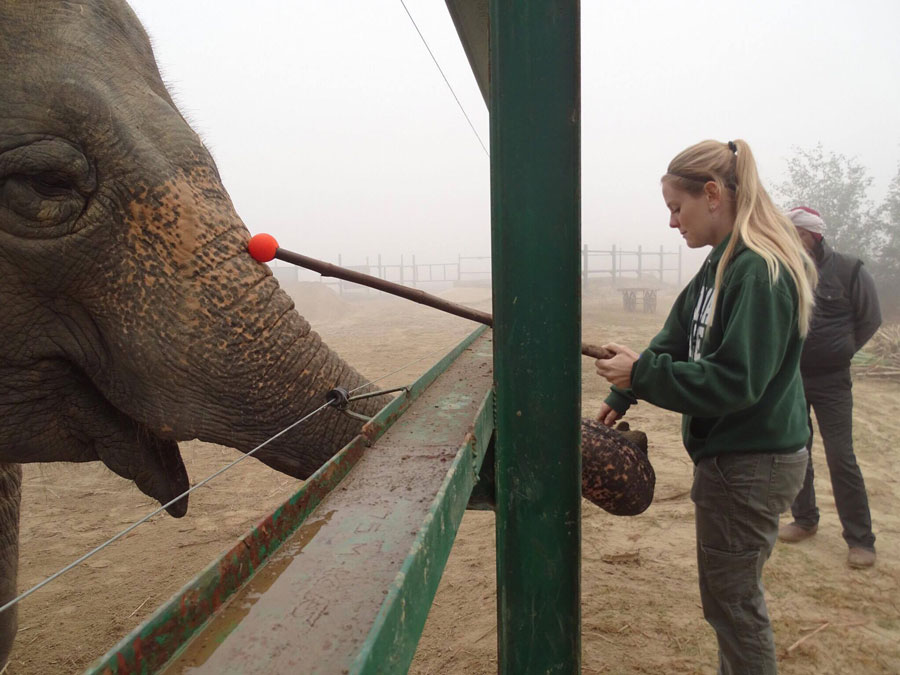 he center working with the veterinarians, mahouts (elephant keepers), and the 18 rescued elephants that now reside at the center. We were able to teach the mahouts the fundamentals of operant conditioning through positive reinforcement training (even using clickers!) and help them begin working towards training behaviors such as blood draws, trunk washes, and foot care. Furthermore, we were able to teach the veterinarians different techniques for ongoing foot care to help prevent foot issues before they begin. We also were able to teach the staff that enrichment is as equally rewarding as it is important for the welfare of the elephants. We constructed and implemented hay nets in some of the habitats to increase foraging time and encourage natural behaviors from the elephants.
Q: I'm sure you learned a lot about elephant conservation while there. What was the most meaningful learning experience you had while in India?
A: At the end of our stay, we took a short trip to Jim Corbett National Park. On one of our safari tours, we came across a herd of over thirty wild Asian elephants grazing in a clearing just before dusk. This was the first time that I had ever seen an elephant in the wild. Seeing the elephants interacting and observing the herd dynamics was an experience I will never forget. This put my entire career into perspective about why it is so incredibly important to educate, excite, and inspire guests to care about and conserve these amazing animals.

Q: What are your future/long term career goals and path?
A: Although I don't have a career path set in stone, I do know that my career will involve elephants. My goal is to continue to grow as a leader and eventually become Elephant Manager, lead a progressive and innovative elephant program, and continue to advance the care of elephants. Many years down the road I would also like to advance into a curator position at a zoo and be more heavily involved in conservation projects internationally.